Established in 1989, Prism Pty. Ltd., a privately owned Australian company is the manufacturer of Vigil Antislip products. The company exports to over seventy countries where it has become market leader due to the high quality products and proactive distributors. Together with Haagh Protection BV they serve the European market.
In 2004 an office was opened in Houston, Texas in order to better support existing U.S. Distributors as well as actively establish new industry specific distributors throughout the country. In over two and a half decades of operation the company has consistently led the field in the development and refinement of antislip products. As a result, Vigil Antislip products are in many instances specified by name by some of the largest and most respected international resource companies.
Throughout Asia, the Middle East, Europe and the Americas, with a growing clientele in every important resource and production processing region, Vigil Antislip is regarded as the leader in industrial slip control.
With the highest antislip rating ever achieved, Vigil Antislip has cemented the reputation as the leader in the field of antislip technology and innovation.

Production & Supply

All Vigil Antislip products are manufactured in Australia utilising the highest quality raw materials from around the world. The completed products are despatched daily to Distributors worldwide by sea or air freight, within one week of the receipt of orders. A wide range of standard sizes, grades and colours are available off the shelf or custom-made products can be supplied within a week, and without paying the usual non-standard premium. All products are simply retrofitted to existing ladders, steps, platforms, ramps, floors, conveyor walkways, etc., without the requirement of downtime.

Applications
The range of Vigil Antislip products can be effectively installed over any surface they may be required. Slips and falls account for up to 30% of all Lost Time Injuries in general industry and in certain conditions such as in areas affected by snow and ice, this increases to 70%. Although high incidence, most slip related accidents are low consequence with sprains and soft tissue injuries being most common. They can also be fatal and industries subject to the regular spillage or contamination from liquids and lubricants are most vulnerable.
Examples of Vigil Antislip installations include tank farms, petrochemical, oil, mineral and steel refineries, ships, ferries, ship loaders,, quarries, mines, collieries, offshore and onshore oil & gas production & exploration facilities, earth moving and heavy haulage machinery, motor vehicle production facilities, railways, airports, power stations, food & drink processing facilities, water & sewerage utilities, public buildings and sporting stadiums.
Safety & QA/QC
Being directly involved in the safety industry, it is important that we lead by example. We have two safety manuals in place, one which covers all aspects of working within our production and administration facilities. This covers how staff are to deal with other staff members, bullying, alcohol and drug use, etc. The other specifically covers every procedure of every production process, and forms part of our production manual.
Our production manuals contain, as part of every process, the QA/QC requirements for every process. As a basic rule, every production team member acts as a buyer and a seller. When a process is completed, the person who conducted that process becomes the internal seller of that product. It is then passed on to the next person in the production process who becomes the internal buyer and checks all specifications, etc. to ensure the previous process was carried out in accordance with requirements. The products then continue through the production process being checked at every stage. Every process is also signed off by the operator on the QA/QC part of the Job Card. This ensures the quality throughout all processes rather than just at the packaging stage. All raw materials are checked upon receipt, resins are tested for hardness and so on.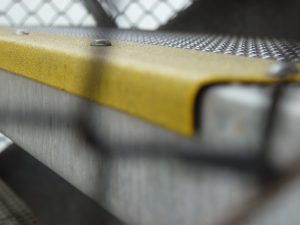 When the products are completed, the Job Card number becomes the Warranty Number and this is stamped on the underside of every product so it can be traced should there ever be a future issue. A written and signed 10 Year Replacement Warranty Certificate is provided with every Class 1 order and the Job Cards are archived for the 10 year period so they may be recovered if ever necessary.
Since 2018 Haagh Protection is responsible for the distribution of Vigil antislip trought the European continent. With a 20 year long experience of reselling Vigil troughout the Benelux, this is the ideal company to contact for more information, samples or a quotation.