Made to size Vigil anti-slip elements are applied to different surfaces and used to eliminate the danger of falling or slipping due to the weather conditions or liquid spillage. It has a good resistance to chemicals, high resistance to mechanical wear and easy to clean.
Resilience underpinned with a 10-year guarantee.
Available in 5 gradations: Offshore – Industrial – Commercial – Light Industrial – Barefoot
Available in stainless steel, aluminum or standard colorbond steel
Budget Class 2 product for inside use available upon your request
Our specials are mentioned below
Deck Light
Deck Light is a product family in which a photo-luminescent layer (glow in the dark) is integrated. Deck Light elements glow in the dark or when there is no lighting due to a power outage. In an otherwise dark area, these elements light up and remain clearly visible for a long time. This makes the Deck Light perfect to create escape routes and walking routes with guaranteed visibility and a rough anti-slip surface. Nearly all Vigil products are available in Deck Light editions.
Deck Light is the most ideal product to add extra safety to escape routes when there is no lighting or when smoke develops.
Made from high-grade material
Afterglow time 8 to 12 hours
No power, battery packs or batteries required
Easily applied with mounting kit or screws
Tailored products possible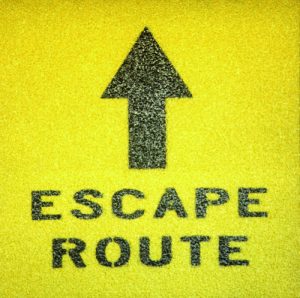 Deck Mark
Adding a Deck Mark to an anti-slip element adds an extra dimension to the safety characteristic of Vigil anti-slip. At any location where a quick and safe evacuation may save the lives of staff members, Vigil anti-slip Deck Mark is an absolute necessity. Each Vigil element can be equipped with a Deck Mark that indicates, for instance, escape routes or another message in letters of internationally recognized symbols.
The anti-slip elements with the Deck Mark are placed exactly where people escaping a hazardous situation look: on the ground. The added symbols or texts do of course not influence the product properties in any way.
Vinyl Deck
A new floor made from cement, concrete or vinyl may seem safe, but can cause just as much damage as an old, worn floor. Just leave some water or another liquid on it, and the hazards increase drastically. Vinyl deck is primarily suited for curved or hollow surfaces (for instance tank vehicles or silos) or surfaces with a minimal mechanical load. It is easy to permanently apply this product on each surface with an adhesive.
The material can be easily cut to size and whether it is used in an industrial environment or in wet areas such as changing rooms or canteens; it will not discolour or delaminate.
Do you want more information about the oppertunities of the special Vigil Antislip elements? Please contact us via the contactform underneath.